21st century car performance goes far beyond upgrading components or retooling existing ones. Engine systems, transmissions, fuel systems and exhaust are all controlled by a car's central computer called an Electronic Control Unit (ECU). Modern cars are tuned via programming the ECU using sophisticated computer software to achieve the highest possible degree of precision. Which car tuning software package is the right one for you? We've reviewed the current top five so you can make the best choice for your tuning needs.
Comparison Chart
IMAGE
PRODUCT

EDITOR'S CHOICE

1. TOAD Pro

Full OBDII diagnostic suite.
Unique problem location and troubleshooting/repair feature built right into the app.
Wired/wireless connectivity via Bluetooth.

Check Price
2. MAXXECU MTune

ECU editing and programming
Full access to a vast library of tuning presets for hundreds of makes and models.
2D & 3D tuning graph display modes

Check Price
3. Viezu K-Suite Car ECU Tuning Software

Large database of performance tuning specs for popular daily drivers and sports cars.
Superior customer service and tech support
ECU mapping, editing and programming

Check Price
4. PrecisionCodeWorks ECU Remapping & Tuning Software

Full mapping, editing and programming suite.
Integrates seamlessly with multiple existing automotive tuning software programs.

Check Price
5. EcuTek

Easy to use, intuitive interface.
High quality tuning specs for dozens of popular performance cars and daily drivers.
Wireless connectivity via Bluetooth.

Check Price
Our Recommendations for Car Tuning Software
1. TOAD Pro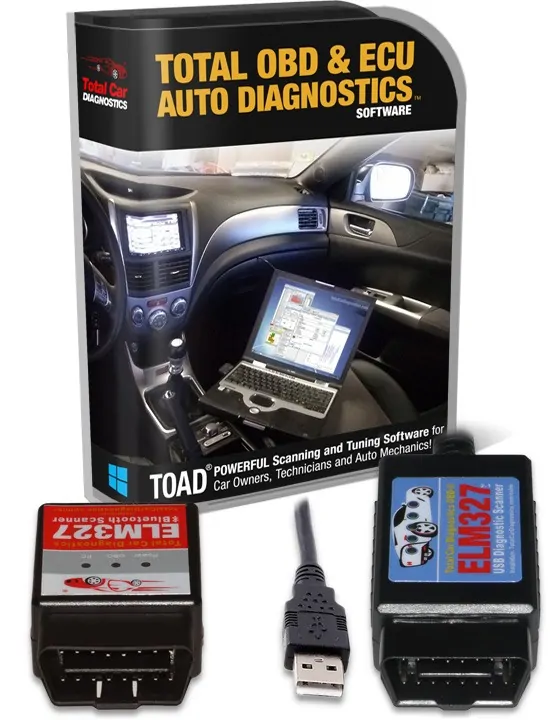 Any car enthusiast will tell you that a custom-built car will always perform better for a skilled driver. Moreover, when their racing team is accurately diagnostics and customizing tuning, a relatively tame car can become a real street demon. TOAD PRO was built to be a consumer/home mechanic tuning solution that allows any mechanic to diagnose, reprogram and refurbish their vehicle.
Features
Here are just a few things you can do with TOAD Pro:
Get an accurate picture of your vehicle's overall health.
Diagnose and repair common issues.
Edit/reprogram any vehicle's ECU data values.
Fine-tune your vehicles performance
Establish optimal fuel economy
Create custom dashboards, charts, gauges and graphs that allow you to diagnose and correct more issues on your own.
Troubleshoot your own vehicles and save on hefty diagnostic fees from dealers or local auto shops.
Check and adjust shift timings for better acceleration performance.
Get accurate CO2 emissions data without needing expensive additional equipment.
WHAT I LIKE

WHAT I DON'T LIKE

Pros/cons overview
As far as I'm concerned, this is one of the most comprehensive ECU programming and diagnostic tools money can buy. The chief selling point for TOAD Pro is that it not only pulls OBD2 codes and lets you adjust your vehicle's tuning, but the app actually shows you where the problem occurred and how to fix it.
2. MAXXECU MTune
Targeted more toward the sport tuning enthusiast, MAXXECU MTune allows gearheads to download and program presets directly into their vehicle ECU. Connect the dongle to a computer or smartphone, and you have instant access to a large database of performance and racing tuning specs for popular "tuner" cars.
Features
ECU programming/editing
Full OBDII diagnostic capabilities
Unlimited access to their massive online tuning library.
Live tuning while the vehicle is running.
Local network auto-tuning via internet database.
2D and 3D graphs and readouts give you a clearer "big picture" image of each tuning profile.
Free regular updates for tuning presets.
WHAT I LIKE

WHAT I DON'T LIKE

Pros/cons overview
There's a lot to love about this software suite. ECU editing and programming is great to have all by itself. MTune takes that to the next level with their library of tuning presets and free regular updates to their software.
3. Viezu K-Suite Car ECU Tuning Software
In the ECU tuning software world, Vizeu is more of a boutique type business. All of their software is written in house, and they are meticulous about verifying all of the custom tuning presets in their database.
Features
Comprehensive ECU editing and programming power.
Complete ECU remapping capabilities.
Large library of default and tuned preset ECU maps.
Easy to use, intuitive interface.
WHAT I LIKE

WHAT I DON'T LIKE

Pros/cons overview
The Viezu K-Suite screams high performance right out of the box. Whether you are seeking optimal daily drive tuning or better high performance tuning, Viezu has everything you need. Plug in, fire up the database and start downloading presets immediately. It's literally that easy.
4. PrecisionCodeWorks ECU Remapping & Tuning Software
Designed primarily for professional use, PrecisionCodeWorks ECU REmapping & Tuning Software offers excellent customer tech support for working professionals and DIY automotive performance tuning enthusiasts.
Features
Full EDU mapping, editing and programming software.
Unprecedented support team for professional performance shops and individuals.
Online library of performance tuning presets for nearly every make and model sport and sport tuner car.
Compatible with AlienTech, AutoTuner Automotive Tool, bFlash, CMD, DiMSport and Magic Motorsport tuning software suites.
WHAT I LIKE

WHAT I DON'T LIKE

Pros/cons overview
This is a great software setup for flashing your ECU while integrating multiple existing professional car tuning suites. The best selling point for this package is their rapid response time for customer support. Every service ticket receives individual attention via phone, online messaging or email within twenty-four hours. Moreover, their engineering team are constantly updating and improving compatibility with more tuning software suites.
5. EcuTek
An all-in-one solution ideal for DIY tuning enthusiasts and shop pros alike, EcuTek is one of the most popular choices for ECU editing, programming and mapping.
Features
Full ECU mapping, editing and programming suite
Includes tuning software suite for popular high performance cars.
Wireless Bluetooth integration for OBDII diagnostics and ECU programming.
World-class customer technical support
WHAT I LIKE

WHAT I DON'T LIKE

Pros/cons overview
If you want to buy a complete tuning package for your car, this is probably one of the best values for the money. It's not just great for sport tuning specs either: you can improve the general performance for your daily driver with a few clicks and taps on your smartphone or tablet.
FAQS
What areas can a car tuning software modify?
Car tuning software can modify fuel, transmission, engine performance and exhaust/airflow systems with ease. All you need to do is pick the ECU programming software interface that works best for you.
Can I remap my ECU myself?
You can easily remap your ECU using any ECU programming software that is compatible with your vehicle.
How do you learn ECU tuning?
Learning ECU tuning requires a working knowledge of basic automotive systems. You will need to know how altering specific systems parameters affects performance to get the desired effects. There are a wealth of online resources for obtaining this knowledge, as well as video tutorials on popular video content sites like YouTube and Vimeo.
Conclusion
After careful consideration, my first choice for car tuning software and ECU programming is TOAD Pro. The software itself is easy to use, and the diagnostic indicator and troubleshooting features are unique to the ECU programming world. If you are in the market for a high quality car tuning app that offers tremendous value, get TOAD Pro. You will be very glad you did.
Check out our store now and get your hands on some of the latest Scanner and Car Maintenance Products.