Nothing is as reliable and versatile as a top-notch OBD2 scanner paired with the best OBD2 software for diagnosing problems with your car's system. It allows you to know EXACTLY what's going on with your car by providing a trouble code along with critical info so you can perform the necessary fixes.But how do you know which one is the best?
To save you the trouble, we have compiled the 5 best OBD2 software for 2021 and stacked them up against each other. We checked them out based on the following criteria: functionality, compatibility, value for money, and ease of use.Let's see what they have to offer.
Comparison Chart
IMAGE
PRODUCT
 

TOP PICK!

1. TOAD

 

Works on all makes and models
Free updates for life
Program and update your car's ECU systems
Real-time data streaming

LEARN MORE
2. FORScan

 

Complete list of Ford codes
Run diagnostics and performance checks
Compatible with mobile devices
Easy to find codes

LEARN MORE
3. Palmer Performance PCMSCAN

 

Comfortable handheld design
Rugged rubber housing
Easy to read backlit screen
Contains all Honda's codes, including manufacturer-specific ones

LEARN MORE
4. OBD Auto Doctor

 

Works on all computers or mobile devices
Compatible with almost any OBD2 scanner
Real-time data logging
User-friendly interface

LEARN MORE
5. Autoenginuity

 

LEARN MORE
Our Recommendations for OBD2 Software
1. TOAD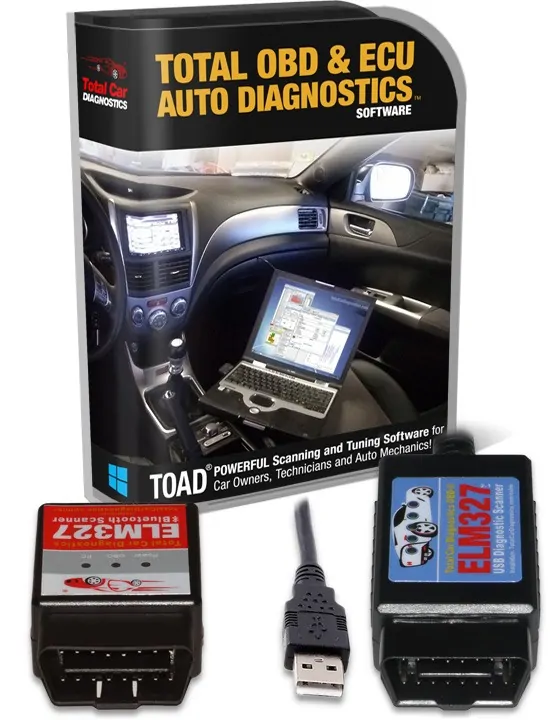 When it comes to getting the right OBD2 software for your vehicle, you want something that is as comprehensive as possible.
Since many modern cars have proprietary codes and systems that update with each new model, you have to be sure that you have a program that won't let you down.
Also, it's not enough to just have OBD2 scanning capabilities. Many new vehicles have ECU computer systems, which allow you to monitor the performance aspects of your car.
Fortunately, TOAD is the total package, meaning that no matter what make or model you have, you can find the code and diagnostic tool to fix any problem you encounter.On top of that, you can also "hack" your vehicle to perform better, meaning that you can do more with this single system.
Our Rating
Integrated Scan Tool
Since we're focusing on OBD2 scan software, most of the programs on this list won't come with their own scanners. TOAD, however, does.
This makes it much easier to get started because you don't have to worry about finding a scanner that is compatible with the system.
Also, many generic scanners can be less than high-quality, meaning that you may encounter issues when trying to diagnose a problem.
TOAD not only allows you to connect to your vehicle immediately, but it also has a Bluetooth option for wireless monitoring.
Complete Code List
Image credit : www.totalcardiagnostics.com
One issue with most OBD2 scanners is that they only work with the top makes and models. Thus, if you have a European or Asian vehicle that isn't covered, you're out of luck.
TOAD standard for Total Onboard Auto Diagnostics, and it's not hyperbole. All cars, trucks, and SUVs around the world are included with this system.
To make it even better, you get free updates for life. Other software programs require annual renewals to stay current with codes, but TOAD has you covered forever. You'll never miss out with this system.
ECU Scanning/Programming
 If your car has an ECU system on board, then you can do even more with TOAD. This software allows you to make adjustments to your vehicle's performance, all from your laptop.
You can study data in real time and see how your changes make it operate more smoothly. Whether you're trying to get better gas mileage or you want to extend the life of your car, this capability can help you achieve those goals.
Video
2. Palmer Performance PCMSCAN
Image Credit : www.palmerperformance.com
As we mentioned, one issue with OBD2 software is that they may require you to buy separate scanning devices that might not be compatible.
Fortunately, if you get the PCMSCAN from Palmer Performance, you can buy a scanner so that you're already good to go.
Our Rating
Multiple Download Types
One thing that's nice about this system is that it will work on both your computer or a mobile device. You can download the software onto your Apple or Android phone and diagnose remotely if necessary.
We highly recommend having this service on your computer as well, though, so you can read data and navigate through menus even faster.
Clear Emissions Tests
If you're worried about your older vehicle failing emissions tests, then you will love the fact that PCMSCAN allows you to run these tests in the comfort of your own garage.
You can monitor the data and see what's happening in real time, which can help you make adjustments for a cleaner, more fuel-efficient ride.
Wireless Reading
With most OBD2 scanners, you have to be plugged in directly to the car to get a reading. With this system, you can access your vehicle remotely.
Best of all, you can buy a scanner that can stay in the vehicle at all times, enabling you to check up on it whenever you like, even while you're out in the field.
Video
3. OBD Auto Doctor
Image credit: www.obdautodoctor.com
In this case, you will have to buy a generic OBD2 scanner if you want to use this software. However, once you find something compatible, you can download this program wherever you want it to go, including your computer, tablet, or smartphone.
This is a relatively straightforward system that allows you to monitor many of your vehicle's components in real time.
Our Rating
Compatible With Mac, PC, and Mobile
We like OBD2 scan software that works across devices, so it's nice to know that you can deploy the OBD Auto Doctor on any computer or mobile phone.
Downloading and setting it up is a breeze, and as long as you have a scan tool, you should be ready to go in minutes.
Real-Time Scanning
For some auto enthusiasts, it's enough to check the OBD2 codes whenever the check engine light comes on. However, if you want to make sure that your vehicle is operating in pristine condition, you need to run some tests.
Image credit: www.obdautodoctor.com
OBD Auto Doctor allows you to check a variety of systems so that you can drive at peak performance. Best of all, you can save and compare this information to see how your car handles over time.
User-Friendly Design
The onboard interface for this program is one of the simplest options we've found. In some cases, the layout can be a little confusing, particularly if you've never done this before.
However, almost anyone of any skill level should be able to get up and running in no time.
Video
4. FORScan
Image credit : forscan.org
One issue that you may come across when using an OBD2 scanner is that you may not have access to the proprietary codes listed by some auto manufacturers.
While most dtc codes are universal, some companies have their own systems, meaning that you need access to them if you want to be sure that you're diagnosing the right problem.
If you have a Ford, Mazda, Lincoln or Mercury car, then FORscan is the best option for you. If you don't, then you want to avoid this system because it won't help with any other brands.
That being said, if you have one of these vehicles, let's see how it works.
Our Rating
Designed for Ford, Mazda, Lincoln, Mercury Vehicles
Overall, we know that many people have foreign makes and models, such as Honda or Toyota. Even other domestic brands like GM and Dodge are not included, meaning that this tool is severely limited.
However, if you fall into one of these parameters, you will have access to a full list of codes offered by the manufacturer. In this case, FORscan is much better than using a generic scanner that may not have all of these tools.
Mobile Compatible
When it comes to reading and diagnosing a problem, we like convenience. The fact that FORscan has a mobile app means that you can troubleshoot like a champ, even if you're out on the road.
That being said, don't monitor your car while you're driving for safety reasons.
Real-Time Data Streaming
When you have your vehicle in a safe area, you can run a variety of tests that help you get a complete picture of how it's behaving.
These diagnostics will ensure that you can perform preventative maintenance and upgrades on your car so that it's operating in peak condition at all times. Also, save and compare this data to see how it changes over time.
Video
5. Autoenginuity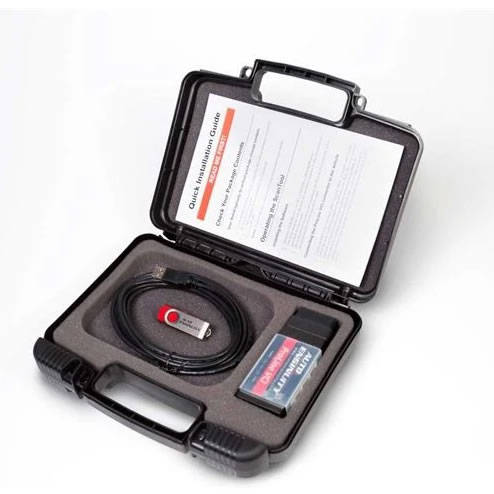 Image credit : www.autoenginuity.com
If you're looking for a simple, straightforward OBD2 scanning program, look no further than Autoenginuity. This software works for most of the high-profile makes and models out there, and it's really easy to use. If you don't care about bells and whistles, this tool will be a great asset.
Our Rating
Store Info for Fleet Vehicles
Although you may only use it for your personal car, it's nice to know that it's built for fleets as well. You can monitor every vehicle in the household, as well as compare cars that you may get over time.
Save all of the data for recall later and set up different accounts so that you get a clear picture of each car you're working on at any given time.
Run Real-Time Data
Do more than see what's causing the check engine light to come on. Run tests on your vehicles to see how they're performing. Use this information to perform maintenance and upgrades as you see fit.
Covers Most Makes and Models
Almost every domestic brand is covered here, as well as most popular foreign models. Although the list isn't comprehensive, it should cover you with no problems. Also, having fewer brands to sift through can make it easier to find what you need.
Video
FINAL VERDICT
When it comes to diagnostic software, nothing compares to TOAD. The reason we like this system the best is that it offers comprehensive tools to check any make and model you may be driving.
This is a professional-grade program, meaning that you can monitor a variety of component on your car, as well as hack it into better driving performance (provided that you have an ECU system on board).
Also, we appreciate the fact that you get free updates for life. This is the ultimate scanning tool.
Check out our store now and get your hands on some of the latest Scanner Products.