The best OBD2 scanner can do wonders to diagnose problems with your car's system. It allows you to know PRECISELY what's going on with your car by providing a trouble code along with critical info so you can perform the necessary fixes. But with so many brands in the market, how do you know which one is the best? We've compared various OBD2 scanners and checked them out based on the following criteria: functionality, compatibility, value for money, and ease of use. From these, we compiled the 10 best OBD2 scanners for 2021 and stacked them up against each other for your convenience.
Read on to get the most comprehensive reviews and feature comparisons.
Now, full disclaimer: "best" will depend entirely on what you need to do with it (duh). There are consumer-grade budget units for $100 that will save the day and professional-grade units for several thousand that are ready to serve massive fleets of cars.
Let's get into it:
Best OBD2 Scanner Comparison Chart
IMAGE
PRODUCT

TOP PICK!

1. TOAD total auto diagnostics

Real-time scanning
ECU tuning for better performance
Lifetime updates
Access to repair manuals

CHECK LATEST PRICE

BUDGET PICK!

2. BAFX Products Bluetooth Diagnostic OBDII Reader

Wireless connection
Works on all OBD2 cars
Syncs with most third-party apps
Can stay plugged in

VIEW ON AMAZON
3. Innova 3160g

Compact and lightweight design
Works with most makes and models
Large, backlit screen
Intuitive menu controls

VIEW ON AMAZON
4. Bluedriver Bluetooth

Compact and lightweight design
Rugged housing works in all settings
Large screen is easy to read
Check engine and other internal systems

VIEW ON AMAZON
5. Autel Maxisys Elite Diagnostic Tool

Live scanning
ECU tuning
Compatible with most makes and models
Integrated apps on the proprietary tablet

VIEW ON AMAZON
6. Autel Maxisys MK908

Live stream vehicle data
Professional-grade diagnostic tool
Rugged tablet is built to last
Over 80 makes and models

VIEW ON AMAZON
7. ScanTool OBDLink LX

Wireless OBD2 scanner
Compatible with most third-party apps
Works on all newer Android or Windows devices
Fast connection speeds

VIEW ON AMAZON
8. Ancel AD 410

Compact handheld scanner
Works with most makes and models
Fast and easy operation
Backlit screen is easy to read

VIEW ON AMAZON
9. Autel AL519 AutoLink Enhanced

Diagnose check engine, ABS, and SRS lights
Stream and graph live vehicle data
Compact and rugged design
Large, easy-to-read backlit screen

VIEW ON AMAZON
10. Innova 3100j

Compact handheld device
Large, backlit screen
Easy to use controls
Freeze frame data for vehicle monitoring

VIEW ON AMAZON
Best OBD2 Scanner Reviews – Our Top 10
1. TOAD – Total Auto Diagnostics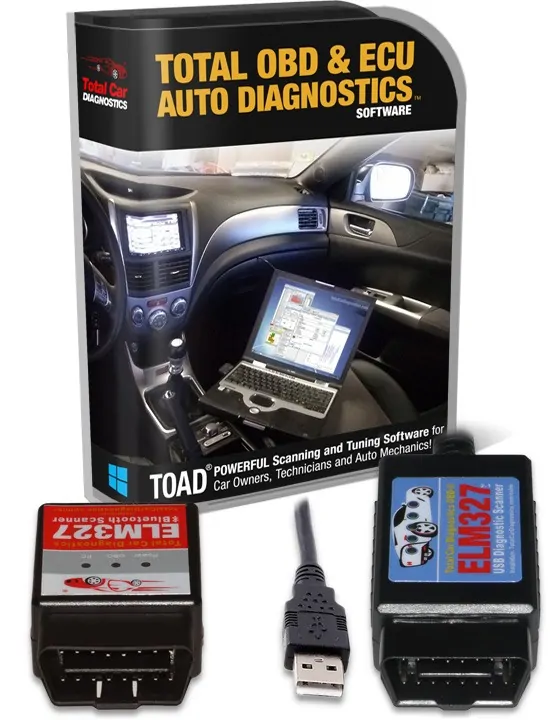 Image credit : Toad ( Total car diagnostics )
Kicking us off is TOAD, which stands for Total Onboard Auto Diagnostics. This is an all-in-one system that enables you to not only figure out what's wrong with your car, but how to fix it as well.
Compared to other OBD2 scanners, this is a comprehensive diagnostic scan tool that works well for both professional mechanics and auto enthusiasts alike.
Product Highlights
Compatible With All Makes and Models
With many OBD2 scanners, you have to pay attention to all of the makes and models that are compatible with the software. In many cases, certain vehicle types are omitted, which means that you'll be out of luck.
With this easy to use TOAD obd2 scanner, however, that's not an issue. It works with every make and model out there, so you never have to worry about coming up short when trying to diagnose a problem.
Lifetime Updates
Another issue that an OBD2 scanner may face is that it can become obsolete over time. With every new make and model that comes out, auto manufacturers will update and change the codes in the system. Alternatively you can also check our full list of obd2 codes.
Thankfully, TOAD will always be relevant, thanks to the fact that you'll get lifetime updates and access to new repair manuals. Simply put, you'll only buy TOAD once, but you'll use this best obd2 scanner forever.
ECU Adjustment
Modern cars use onboard computers to control all of the internal systems. However, in most cases, all you can do is check to see what the computer says about a particular issue.
With TOAD, though, you can actually fine-tune your vehicle's performance through the ECU mainframe. Thus, if you want to improve things like fuel efficiency or engine output, you can make these adjustments through the software.
VIDEO
2. Innova 3160g
For the most part, when looking at various scanners, you'll notice that they are small, handheld devices. While you can get more intensive software packages like the TOAD above, many casual car enthusiasts prefer models like this one from Innova. Let's see how well it works.
Product Highlights
Compact Design
If you're not interested in being a hardcore "car guru," then it doesn't make sense to buy a complete OBD2 scanning system. While professional-grade models are helpful, they can be a little overwhelming for many people.
Thus, having a compact and easy to use obd2 scanner like this one can be much more beneficial. It allows you to reset lights and diagnose what's going on underneath the hood, which is all an OBD2 scanner should do.
Reset Oil, ABS, and Other Lights
When these devices first came out, they were only designed to reset the "check engine" light. Fortunately, modern varieties like this one can go beyond the original intent.
With this obd2 scanner, you can reset all kinds of dashboard lights, from TPMS to airbags. Also, you can diagnose what's wrong with your vehicle so that you know what your next step should be.
Works With Most Models
Although this obd2 scanner isn't as comprehensive as TOAD, it should work with your vehicle. We suggest looking at the complete list of compatible makes and models just to be safe, but if you have a top brand, you shouldn't have to worry.
3. Bluedriver 
Usually, when working with an OBD2 scanner, you have to plug the scan tool into the car every time you want to use it. However, with an easy to use device like this, you can simply check your phone whenever you want to see what's going on underneath the hood. It's one of the most convenient devices you can find.
Product Highlights
Wireless Connection
You can connect to this obd2 scanner via Bluetooth. It syncs to your phone using the proprietary app, meaning that you can check on your vehicle whenever you see fit.
Compatible With iPhone and Android
Typically speaking, if an obd2 scanner syncs to your smartphone, it will usually only work with one provider. Fortunately, Bluedriver is compatible with both operating systems, meaning that everyone can enjoy the simplicity and convenience of this device.
Constant Monitoring
One of the primary benefits of this unit is that you can leave it plugged in at all times. Thus, you can check up on your vehicle no matter where you are. Since you already have your phone on you, it's much more convenient than other models.
Video
4. Autel Maxisys Elite Diagnostic Scanner
As we'll see, Autel Maxisys is an excellent maker of high-quality OBD2 scanners. This unit, the Elite Diagnostic Scanner, is a professional-grade device that comes with a lot of added features. If you're serious about maintaining your car, this is an excellent choice.
Product Highlights
ECU Coding and Programming
As we discussed with TOAD, being able to adjust your vehicle's performance via the onboard computer is an awesome feature. While you should know what you're doing before messing with these elements, it's nice to see that you can improve your car without having to pay for upgrades.
Rugged Tablet
Some scanners are a handheld device, while others sync to your smartphone. Autel bridges the gap by giving you a proprietary tablet instead.
What sets this apart is that it comes with all of the scanning and diagnostic trouble apps pre-installed, meaning that you can start using it immediately. Also, the tablet is built for mechanic workshops, so it's made to last.
Live Scanning and Data Recall
With many modern scanners, you can monitor your car's performance in real-time. Using the apps, you can not only check on your vehicle's systems, but you can track the data and chart it over time so that you can spot potential issues before they become real problems.
Video
5. Autel Maxisys MS908
Although we would suggest the Elite Diagnostic Scanner, the MS908 is another excellent choice by Autel Maxisys. This company makes some of the best OBD2 scanners, so you can't go wrong, no matter which one you choose. Let's see what this unit has to offer.
Product Highlights
Live data Scanning
For the most part, one of the better functions of a modern obd2 code scanner is the ability to monitor your car's systems in real-time. The reason this is such a useful feature is that it allows you to check on your vehicle and pinpoint any potential problems that may arise in the future.
As with the Elite version, you can track and chart this data over time for even easier monitoring and diagnostic trouble fixes.
Instant Updates
If you're ever worried about your obd2 scanner becoming obsolete, you can worry no more with the MS908. It will sync to the internet automatically so that it's always up to date.
80 Makes and Models
With so many brands and cars in its memory banks, you're sure to find yours without any issues. It includes foreign and domestic makes and models, and it continually updates the codes so that they're always accurate.
Video
6. BAFX Products Bluetooth Diagnostic OBDII Reader
We've already seen a wireless OBD2 scanner from Bluedriver, but this model from BAFX works about the same. However, the most significant difference is that it doesn't come with its own mobile app, so you have to find one that works. However, that can be an advantage in most situations.
Product Highlights
Bluetooth Connection
Overall, being able to diagnose and monitor your car remotely is such a benefit. Thus, rather than having to find your code scanner, plug it in, and then wait for the data to come out, you're always ready to go with your smartphone.
Compatible With All Makes and Models (Depending on the App You Choose)
Technically speaking, this will work on all OBD2 scanner compliant cars. However, since it doesn't come with a proprietary app, the codes will be dependent on that. Thus, we suggest finding an app that has your make and model included.
Can Be Plugged In All the Time
Like with the Bluedriver model, you can keep this scanner connected. However, be sure to remove it if you're not planning on driving for a while, as it will slowly draw power from the battery.
Video
7. ScanTool OBDLink LX
Next, we have another wireless OBD2 scanner. Like the BAFX model above, this unit is designed to sync to third-party apps. Thus, if you can find a compatible version that has all of the features you need, this can be a useful tool for your car.
Product Highlights
Bluetooth Connection
As we've established, the ability to connect to your vehicle's systems remotely is a huge benefit. This saves you a lot of time and energy, especially if you can pull up the app on your smartphone. It's the ultimate in convenience.
Fast and Secure Syncing
Compared to other wireless scanners, this scan tool is much faster. Thus, once you find and sync the app you like, you should be able to get the answers you need much more reliably than you would with other scanner models.
Video
8. Ancel AD 410
For the remainder of our best OBD2 scanners, we'll be looking at standard handheld units that plug into your car's OBD2 port.
As we mentioned above, this style of device is ideal for those who are enthusiastic about monitoring their vehicle's health but don't necessarily want to do the repairs themselves.
Product Highlights
Backlit 2.5-Inch Screen
When using scanners like this, one issue that many of them seem to have is that the screen is way too small. Although 2.5 inches doesn't sound like much, the layout of the screen is sufficient so that you can read the menu and the error codes without any problems.
Lifetime Updates
As software gets older, it starts to break down and work less efficiently. Thankfully, all you have to do is plug this unit into your computer and download updates from the company's site. Thus, this model will always be reliable.
Video
9. Autel AL519 AutoLink Enhanced
Although we've seen the best that Autel has to offer, the versions above were designed for mechanics or hardcore car enthusiasts. Thus, if you're more of a casual OBD2 scanner, then this is a much better option for you, but we can say that this is the best obd2 scanner with ABS and SRS.
Product Highlights
Rugged, Compact Scan Tool
While it's not as large or as easy to read as a tablet, it is just as robust and ready to go as the other Autel models we've seen. Also, the layout of the screen is still excellent, meaning that it's easy to read your error codes and navigate through the menu.
Live Data Graphing
Unlike other "standard" scan tools, this one allows you to monitor your car's health in real-time. While you can't track the data as extensively as you could on the tablet versions, the AL519 still enables you to graph the live data so that it's easier to read and understand.
Video
10. Innova 3100j
We've already seen what an Innova OBD2 scanner can do, but if you want a slightly more intuitive version, then the 3100j is an excellent choice. While we're not saying that this is better than the 3160, it does have some pretty neat features.
Product Highlights
Freeze Frame Data
Although this isn't the same as live data streaming, it still provides a helpful snapshot of your vehicle's overall health. This data can then be used to diagnose potential problems that may arise later on. Simply put, it helps you be more proactive with your car.
Check Multiple Systems – Oil, Airbags, Etc.
Because this is a modern OBD2 scanner, you can diagnose far more than your check engine light. This version can also monitor your oil, tire pressure, and airbags, among other systems. Overall, it's a more comprehensive version of the "standard" scan tool.
Video
OBD2 Scanner Buyer's Guide – Getting The Right Unit
Whether you're a hardcore auto enthusiast or you just want a quick and easy way to diagnose what's wrong with your car, having an OBD2 scanner is one of the best options for you.
These devices are handy for a variety of reasons, and they will help ensure that you get the most out of your vehicle. However, since there are so many models and options to choose from, how can you be sure that you're picking the right one?
Today we want to talk about the various elements of OBD2 scanners so that you can make an informed decision. These tools can be highly useful, but not all of them may be as helpful as you need. If you ask any ASE Certified mechanic, they'll tell you how buying the right unit can make a massive difference.
How Does an OBD2 Scanner Work?
The way that this system works is that the device plugs into your car's OBD2 port (underneath the steering column). It connects with the onboard computers that monitor your vehicle's systems.
At its core, OBD2 is designed to diagnose your check engine light. Since there are so many components to the engine that can wear down over time, it's impossible to have a different engine light for each section. Thus, the scanner will find out what's happening and display it via code.
Initially, these devices simply showed the fault codes without description. This meant that you had to look up each code in a corresponding book to find out what was wrong. Fortunately, many modern versions will offer the fault codes and what they mean.
OBD1 vs. OBD2
Before 1996, if you wanted to figure out what was wrong with a vehicle, you had to take it to a mechanic. At the shop, they would test a bunch of different internal systems (engine light, oil, fuel, etc.) to see if they could determine the source of the problem.
As you can imagine, this method of diagnostic trouble monitoring was inefficient and costly, both for mechanics and consumers.
In 1991, California decided that to help curb emissions, they would create a standardized testing system for all new vehicles. Automakers had to make their new cars compliant with these standards, which would not only detect emissions, but any issues going on with the engine.
The original standard was called OBD1 (on-board diagnostics). However, it wasn't standardized across the country until 1996, when OBD2 came out. This new system would be built-in to all new models and allow consumers and mechanics to determine any internal problems quickly and efficiently.
These days, OBD1 is obsolete, but if you have an older vehicle, it may still utilize the initial fault codes. Some scanners will have both OBD1 and two capabilities, but if you drive anything newer than 1996, you won't need them.
What to Look for in a Scanner
Modern scanners are much more useful than they were originally. When comparing new models, you can find a wide range of features and benefits that will help you get the most out of your device. These are the elements we value the most.
Wired vs. Wireless Connections
Bluetooth technology is becoming more and more prevalent, which means that you can find scanners that can transmit data wirelessly to a receiver. Typically speaking, they communicate with an app on your tablet or smartphone.
The great thing about bluetooth scanners is that you can leave them plugged into your car, meaning that you can diagnose any issues while you're out on the road. The downside, however, is that they may drain the battery, especially if you're not driving for a few days.
Another issue that can happen with low-quality bluetooth obd2 scanner is that the connection can be interrupted easily. Thus, trying to sync can take a while, or you may have to reboot your app to get it to work.
Overall, wired connections are more reliable, but if you get a high-quality wireless version, it will be much more convenient.
Code Reading
As we mentioned, the primary purpose of an OBD2 scanner is to give you codes for your check engine light. Simple models will only tell you the engine light code, and some may or may not give you more information about what it means.
Usually, if the screen on your scanner is small, then there's not enough room to define each check engine light code. Thus, you may want to get a model with a larger screen so that you can read the definitions more clearly.
Compatibility
Each auto manufacturer creates codes for all of their makes and models. Thus, while the OBD2 system is standardized, the codes are not.
When picking out the best scan tool, you want to make sure that your vehicle is included. For the most part, these devices will have all of the major domestic brands, such as Toyota, Ford, and Honda. However, if you have a foreign or specialty car, you'll probably have to look for a scanner that's built for that particular brand.
Live data Scanning
One improvement that modern scanners have is that they allow you to check on your car's performance. Since onboard computers are much more advanced than they were in 1996, you can monitor all of your vehicle's systems at once.
Live scanning is a powerful feature because it can help you track your vehicle's operation over time, as well as pinpoint any potential problems before they become an issue. For example, you can diagnose why your car is losing gas mileage.
Data Tracking
Modern scanners can provide a wealth of information about your car. However, if you're not a mechanic, it can be difficult to understand what it all means.
Thus, you will want to get a unit that shows the data in clear, easy-to-read graphs and charts. Also, you should be able to monitor this data over time so that you can see any changes as they occur and use that information to your advantage.
Repair Manuals
Although OBD2 scanners can tell you what's wrong with your engine (and clear the check engine light), that doesn't mean that you know what to do to fix it.
Fortunately, many high-end scanning tools offer repair manuals and forums online. This way, you can not only discover the check engine light issue but how to correct it yourself.
If you're a hands-on car enthusiast, having access to these manuals will be invaluable, and they can save you a ton of money by avoiding the mechanic for small issues.
Will My Scanner Work for My Vehicle?
One of the most significant issues that people experience with OBD2 scanners is that they don't have the codes for their particular make and model. As we discussed above, if you have a car that isn't one of the major domestic brands, you can't buy just any scanner and assume it will work.
In some cases, it may be better to get a scanner that is designed specifically for your brand. For example, some scanners are made only for Audi or BMW vehicles and nothing else.
Getting a model like this will not only ensure that it's compatible with your car, but it will make it easier to find the right fault codes since there aren't dozens of other brands in the system. Overall, you can work more efficiently this way.
Types of OBD2 Scanners
Code Readers
If you're looking for something simple and cost-effective, then a standard code reader should be sufficient. However, the quality of these devices can vary, so we recommend comparing different code reader units to be sure that you get the best one for your needs.
As we've discussed, one issue with a code reader is that it will only tell you the code, meaning that you have to look it up, either online or in a codebook to find out what's going on.
For example, if your check engine light is on, the code reader will simply display the trouble code on the screen.
Other code reader models may give you a small description, but depending on the problem that may not be sufficient either.
Thus, with a code reader, the type of data you can access is limited. A code reader may also not contain specific information for manufacturer codes.
Ideally, you will get a code reader that can thoroughly explain what the code means.
These models are much more efficient, although because they typically have a larger screen, they may be a little more expensive than the more common forms of code reader.
Displayed: Autel MS309 Code Reader
Scan Tools
While a code reader may be all you need, its features are more limited compared to a scan tool. Sure you can read and clear codes with a code reader, but a scan tool let's you view live and stored data among other things.
Thus, for those who want to get more out of their cars, it is an invaluable option when comparing OBD2 scanners. These models are designed to provide insight into your vehicle's performance by allowing you to monitor not only your check engine light but also other internal systems in real-time.
A high-end scan tool will also allow you to connect to your car's ECU system, which can sometimes enable you to adjust performance metrics (such as fuel efficiency). While we don't recommend toying with your ECU if you're not sure what you're doing, it can be a powerful way to upgrade your car without having to go to a professional body shop.
As you can imagine, a scanner is usually pricier than a code reader, but it offers so many more features, so the cost is generally worth it. However, if you have no interest in diving deep into your car's inner systems (and just diagnose the check engine light, for example), then the code reader is more ideal.
Benefits of Having an OBD2 Scanner
Regardless of the type of scanner you get, the primary question you have to ask is, why do I need this? We've covered some of the highlights of owning one of these devices, but let's discuss the benefits more in-depth.
No Unnecessary Mechanic Visits.
If you've ever taken your car into the shop because the check engine light was on, you know that it can be a waste of time and money. Unfortunately, because this check engine light can cover such a wide range of issues, you're never sure if it's something serious or something you can fix on your own.
With an OBD2 scanner, you can figure out what the problem is beforehand and reset the check engine light if necessary, meaning that you can save your trip to the mechanic for when it really counts.
Learn More About Your Vehicle
Whether you're a car enthusiast or you just want to be more proficient at maintaining your vehicle, an OBD2 scanner will be an invaluable tool for you.
Ideally, you will get a model that provides you with repair manuals as well as detailed code descriptions so that you can start fixing minor problems on your own. Over time, the more fixes you do yourself, the more confident you'll be in keeping your car in pristine condition.
Smog Check
Most states require that cars pass the DEQ test, which can be a bit of an issue for older vehicles. When you have an OBD2 scanner, you can do this test in your own garage, meaning that you can make sure that you'll pass before you take it in. If it's not looking good, then you can get the problem fixed first, thus saving you time, money, and hassle.
Compatibility With New Vehicles
For many of us, we'll own multiple cars over our lifetimes. However, just because you upgraded to a newer model doesn't mean that you should have to buy a new scanner.
Fortunately, many modern OBD2 scanners come with tons of codes, which means that you should be ready to go every time you purchase a new vehicle.
However, if you want to avoid the issue altogether, you should get a model that comes with lifetime updates. This means that as new codes come out for different makes and models, you will always be able to check on them.
What Problems Does an OBD2 Scanner Detect?
When these devices first came out, they were designed for smog check and your check engine light. Fortunately, many new versions also include other internal systems, such as airbags and brakes.
Here is a breakdown of the kinds of codes you may find in your OBD2 scanner. Please note that this is not a complete list, follow this link for a list of all the obd 2 diagnose codes.
Check Engine Light Codes

Camshaft position or misalignment

Heater control circuit

Oxygen sensors

Ambient air temperature

Intake and exhaust valves

Air flow circuit

Manifold absolute pressure

Barometric pressure

Engine coolant temperature

Throttle position sensor

Fuel composition sensor

Airbag Codes

Airbag circuit shortage

Low battery voltage

Improper airbag mount

Primary crash sensor

Other Codes

Oil Pressure

Anti Lock Braking System (ABS)

Transmission

Emissions
As you can see, many different problems can be diagnosed with an OBD2 scanner. Since there are so many intricate components inside your car, it's imperative that you pinpoint the problem before addressing it.
What Kind of Scanner Should I Buy?
Handheld
These are the most ubiquitous models on the market, and they are the most convenient. Since they are compact and lightweight, you can usually keep them handy, including inside your glove compartment if you like.
The primary issue with handheld scanners is that they come with smaller screens. However, newer models are larger than older ones, so that may not be a problem for some people.
Software-Based
In this case, the scanner itself sends the data to a software program, either on your smartphone, tablet, or computer. Thus, rather than reading the codes on the device itself, you can browse through them on a larger screen.
Typically speaking, software-based scanners are ideal for professional-grade needs. They will offer access to repair manuals and other features that you won't be able to get with a handheld device.
That being said, you have to make sure that your device is compatible with the software before buying it. In some instances, the manufacturer may provide you with a mobile device (i.e., a tablet), but usually, you have to have your own.
Bluetooth/Wireless
Although some handheld or software-based scanners allow you to connect remotely, Bluetooth scanners are technically different.
The way that these devices work is that the scanning part plugs into your car and sends data to a corresponding app. In some cases, the bluetooth obd2 scanner may be proprietary to the manufacturer, but usually, you have to download a third-party version to read the information from the scanner.
Typically speaking, these scanners are meant to stay plugged in at all times, but one of the risks can be that they will drain your car's battery. Some models will shut off automatically to avoid this issue, but not all of them do.
Overall, these scanners are convenient, but they can sometimes have connection issues, so we recommend testing them out before making a final decision.
Displayed: Bluedriver Scan Tool.
Professional vs. Consumer-Grade
The fact is that scanners are used in mechanic shops all over the place. Since your mechanic can't usually tell what's going on beneath the hood based on a dashboard light, he or she has to use one of these devices to diagnose the problem.
Thus, when picking out the best OBD2 scanners, you can get the same model that the pros use. Typically speaking, professional-grade devices will include-
Multi-Vehicle Data Tracking

Lifetime Code Updates

Repair Manuals for Each Code Section

Universal Compatibility (Foreign and Domestic Cars)

Live Scanning and Data Graphing
Usually, these scanners will be a little more expensive than consumer-grade models, so keep that in mind. Also, if you're not planning on doing many of the repairs yourself, then having access to all of this data may be pointless. In that case, a code reader should be sufficient.
Best OBD2 Scanner Brands in the Market
Now that we know more about how these scanners work and why you should have one let's see what options are available. While we won't discuss particular models, here are the top brands that we highly recommend.
TOAD stands for Total Onboard Auto Diagnostics. This company only makes one OBD2 scanner, but it's so incredible that they don't have to make any others.
What sets TOAD apart from the competition is that it's designed to be the ultimate diagnostic scan tool. Not only is it compatible with almost every make and model in the world, but it offers extensive repair manuals and forums to help users fix their issues.
TOAD is definitely professional-grade, meaning that any hardcore car enthusiasts will love all of the features it provides. For example, you can tune your vehicle's ECU to maximize your performance!
This scanner is also software-based, meaning that you have to download it from the internet. However, you can connect wirelessly to your car, making it much more convenient and easy to use.
The only downside to TOAD is that it just monitors check engine codes. Thus, if you want to pay attention to other systems like ABS, airbags, and tire pressure, you'll have to buy another scanner to do so.
Website: totalcardiagnostics.com
When it comes to professional-grade, app-based scanners, Autel is one of the top brands on the market. This company also makes handheld code readers, so no matter your skill level or intentions, you should be able to find a model that works for you.
If you decide on one of the more high-end models, then you can expect to get a rugged tablet that comes with a variety of proprietary apps. These programs allow you to scan your car in real-time, as well as access a database of codes and descriptions.
Founded in 2004, one nice thing about the company is that it only makes automotive diagnostic tools. Thus, with a focus on the industry and years of experience in creating high-quality products, you can be sure that you'll enjoy any scanner that they offer.
Website: https://www.auteltech.com/
When you look at the product lineup for Innova, you'll see that they are almost exclusively handheld scanners. Unlike Autel which uses tablets and software to get the job done, Innova utilizes standard OBD2 technology.
Fortunately, even though their devices are all handheld, that doesn't mean that they're limited in scope. Many of the higher-end units offer more diagnostic tools, such as real-time scanning and data tracking.
To help you manage the information, you can usually connect your device to the computer. Overall, Innova OBD2 scanners are both convenient and easy to use, making them ideal for car enthusiasts of all skill levels.
Like Autel, this company produces both handheld code readers and app-based diagnostic scanners. Launch Tech has a lineup of rugged tablets that come with a variety of proprietary programs to help you diagnose what's wrong with your vehicle.
Located in Ontario, CA, this company utilizes some of the most high-tech software and tools to make its products even more user-friendly. They offer both professional and consumer-grade scanners, although their price points are typically higher. However, the quality reflects the price, so keep that in mind.
Website: http://launchtechusa.com/
If you're looking for code readers and other mechanical diagnostic tools, then Actron is one of the best companies out there. While they also have app-based scanners that sync to your smartphone, most of their lineup includes standard handheld code readers.
Fortunately, these models will usually give you a description of what's wrong so that you don't have to look it up later.
Also, they offer a variety of automotive diagnostic tools, including mechanical devices that let you check various internal systems, such as oil pressure.
Website: https://actron.com/
Conclusion
If you're in the market for a new toy, you'll definitely want to spend your money wisely.  If we had only one product to recommend, that would be the Total Car Diagnostics software. If your budget is a bit bigger and you are looking for a dedicated unit, the Autel Maxisys Elite is certainly the way to go, but if you just want an inexpensive, versatile solution, then the Bluedriver is what you want to buy.
I hope this page helped you find the best obd2 scanners for your particular needs!
Check out our store now and get your hands on some of the latest Scanner Products.