What is OBD2Pros?
OBD2Pros is a website collecting, classifying and storing detailed descriptions of diagnostic trouble codes (DTC), OBD2 scanner and software reviews, auto mechanic trainings, vehicle repair resources and more.
Featuring an exhaustive list of car trouble codes, user guides, car manuals and other information for car maintenance and repair, OBD2Pros serves professional mechanics and DIY car enthusiasts with up-to-date descriptions, definitions and actionable advice related to onboard diagnostic systems to help car owners and professionals read the data, received from any vehicle and easily diagnose vehicle troubles and measure its performance and behavior.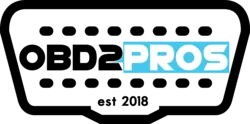 OBD2Pros Mission
OBD2Pros is on a mission to serve DIY car repair enthusiasts and professional mechanics with content that addresses their needs, questions and doubts related to the car repairs, car maintenance and OBD II diagnostic codes.
Following our mission, we strive to enhance obd2pros.com by turning it from a quick reference guide into an educational hub and a knowledge base for all things car repairs, diagnostics and maintenance.
OBD2Pros Story
OBD2Pros was established in 2018 by Alex Meyer – mechanics expert and currently editor-in-chief of the website. Alex has more than 15 years of experience in fixing cars and has worked for top automotive brands such as Mazda and Citroen, as well as an specialized Mercedes garage in 2012 back in London, amongst others.
OBD2Pros Team and Contacts
Contributors:
Want to join the team to share expert advice about diagnostic trouble codes and car repairs and maintenance? Drop us a line via our contact form: https://obd2pros.com/contact/
Contact
You can reach us at any time by filling this form and get a response withing 24 hours from your inquiry.
https://obd2pros.com/contact/